You will love this dish!  Protein Packed and Flavorful!  For the complete recipe and images, click HERE!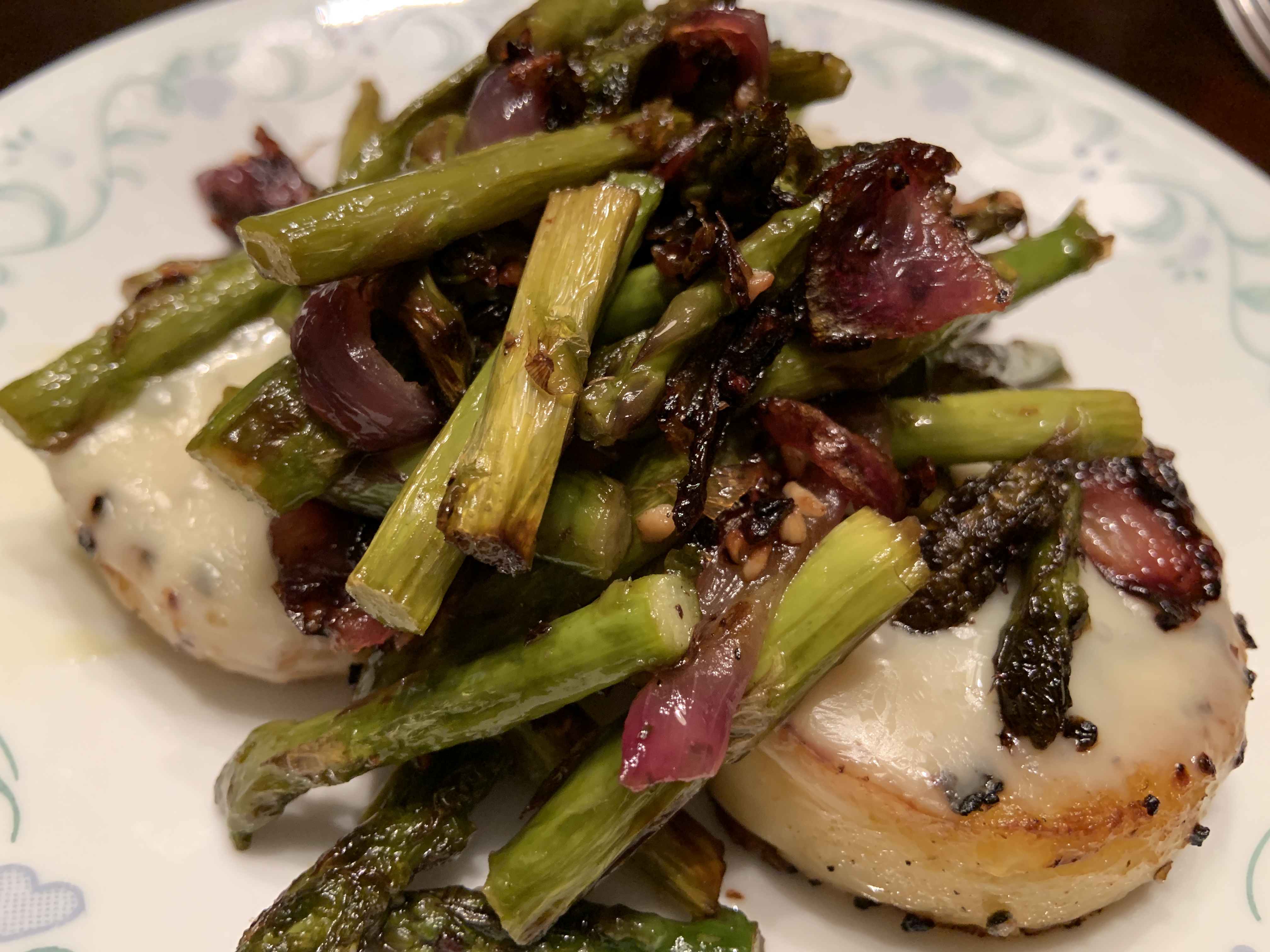 Cheesy Polenta and Asparagus! AWESOME!!
I pride myself on my ability to create awesome dishes from stuff I have at home. This meal was no exception. I was at a networking event and was going to pick up something to go on my way home. But it was raining really hard and I didn't want to get out of the car.
Once home I scanned the fridge (For a length of time, which would have had my Mom screaming!) and I see asparagus. Awesome. Then I saw a tube of polenta. Now usually I would scoff at this and make my own but I was nearing the "hangry" stage!
Further surveillance alerted me to a red onion and some American Cheese. The good kind. White. Tiny little air holes. The best American melter! Game on.
In a frying pan (I only used one pan!!), I added a lump of butter and some olive oil. I left it on medium heat. High heat and olive oil are not great friends. First I added the onions so they would have the most time in the pan and caramelize nicely. Next came the asparagus. Of course, salt, pepper and fresh minced garlic. Just as the asparagus started to relax, I sliced the polenta into medallions and placed them in the center of the pan. I moved the onions and asparagus to the perimeter of the pan. I turned the polenta after about 15 minutes. Slow and low, baby! This would ensure a crispy polenta outside but soft inside. After turning them over and tossing the veggies as well, I let everything go another ten minutes.
Finally, I topped the polenta with cheese, dropped a teaspoon of water into the pan for steam and covered the whole thing with a lid. 5 minutes later I plated the cheesy polenta and topped it with the asparagus and onions.
Oh. My. God.
Grandmom's Meatballs and Gravy!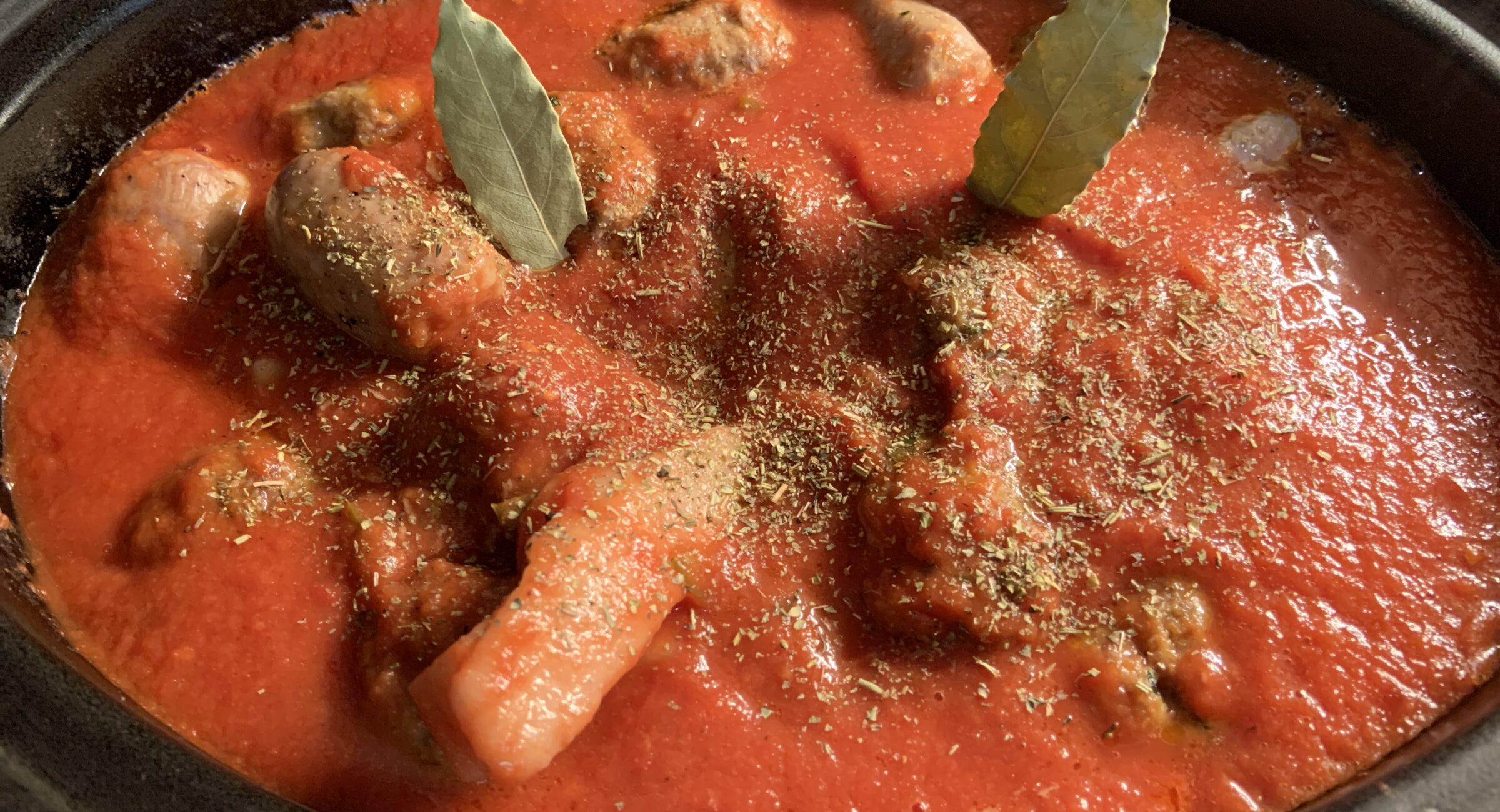 This Meatball and Red Gravy Recipe will make you the envy of your Friends, Family and Neighborhood!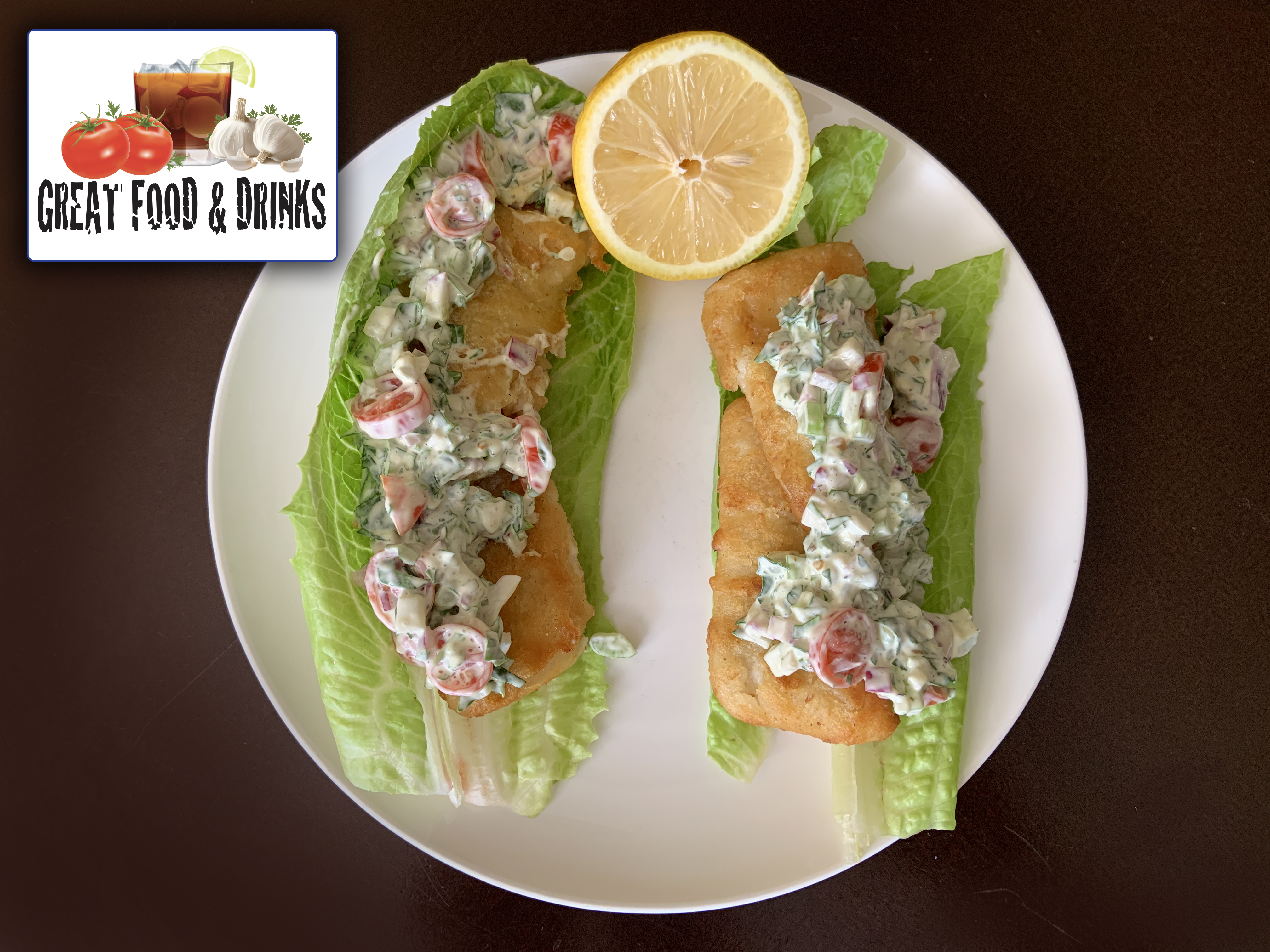 Fish Taco Wraps
Wether you are honoring the Lenten Season or you are just trying to eat healthy, these fish "tacos" are an awesome and healthy dish!
First off you are going to substitute a lettuce wrap for for your taco shell or tortilla shell.  I actually prefer a nice Boston or Bib lettuce but I only had romaine!
Now if you want to go semi-home made, you can just buy some battered fish fillets.  Or you can can grill or bake your fish for an even healthier option.  For the purpose of this article, I used a good brand of frozen battered fish fillets.  But if you want to make awesome battered fish fillets, follow this recipe:
1 Bottle of beer (Preferably Pilsner or an Ale)
All purpose flour
1 Pound Cod sliced into strips
Slowly whisk the flour into the beer until you get a thick consistency like pea soup.  You want it to be thick enough that it barely drips off the fish when you dip it in.  And speaking of fish, you want something that will be nice a thick and flakey when it's cooked.  Cod is ideal.
Heat a pot of vegetable oil to 375 degrees.  Once your temp is reached, you should SLOWLY drop the fish into the oil.  And consider displacement.  Only fill the pot half way with the oil so it doesn't overflow when you drop in the battered fish.  Let the fish cook in the oil for about 3 minutes and flip them over and let cook for another 3 minutes..  Do not overcrowd them in the pot.
Remove them and place on a cooling rack.  Salt them immediately.
Finally, you will want this amazing "Slurry"!  You will need:
Sliced Cheery Tomatoes or diced Romas.
Chopped Cilantro
Chopped Celery
Chopped Basil
1/3 cup Low Fat Mayonnaise
1 TBSP Lemon Juice
Salt & Pepper
Jalapenos (If Desired.)
Mix all ingredients together and chill in the freezer for 10-15 minutes.
Now simply build your Fish Taco Wraps!
Enjoy!
The Best Ways to Bake Chicken!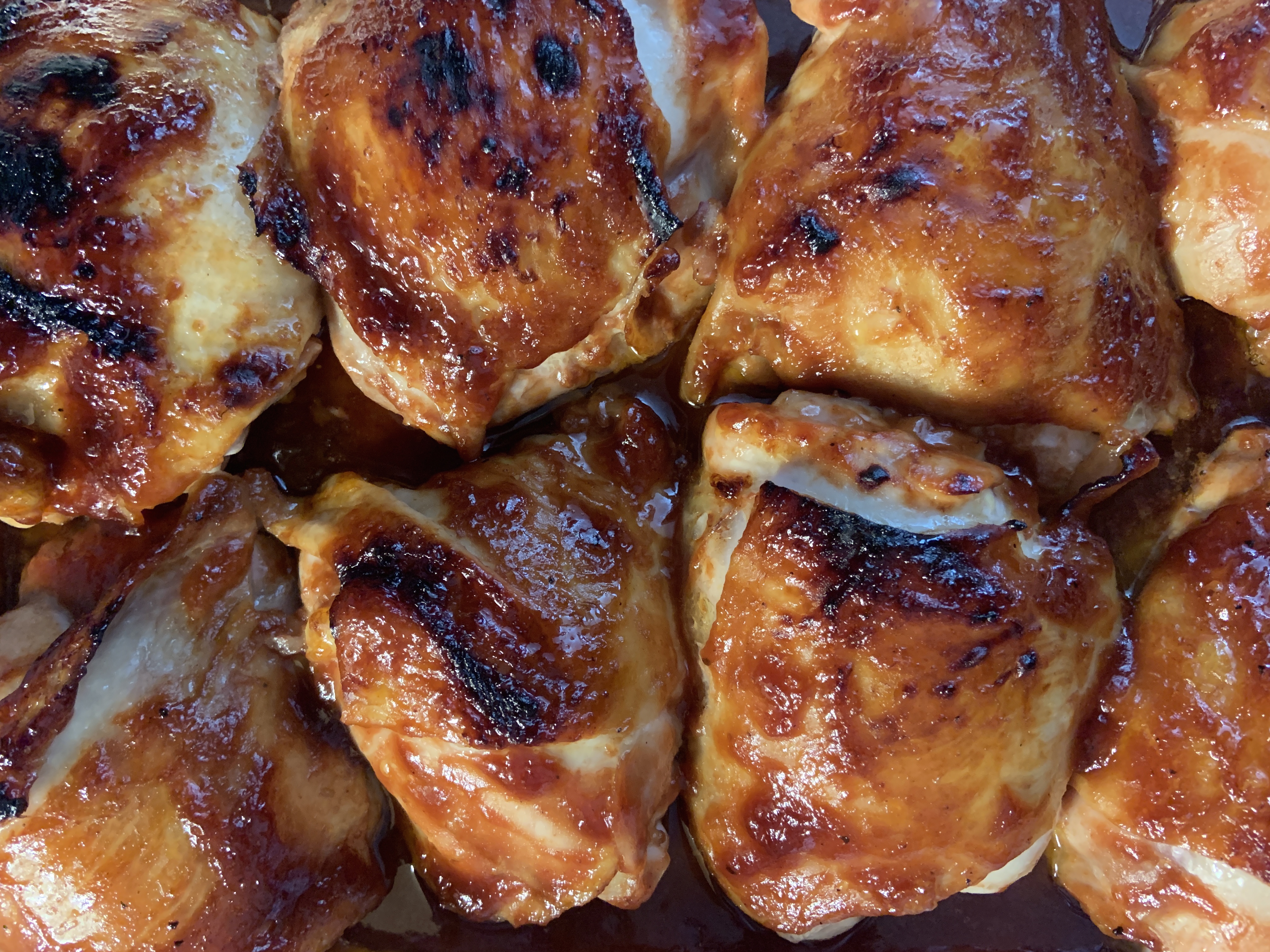 Healthy 0r "Healthier" BBQ Chicken Thighs
This sucks.  The secret is out.  T'was a time you could pick up a few packs of chicken thighs very inexpensively.  I'm talkin' $4 for 12 of them!  But the word got out about how many restaurants were featuring them on their menus.  And the Poultry Dealers saw gold.  Trendy equals money.
Nevertheless, Chicken Thighs are more expensive now, but they are still worth it!  Those juicier and sweeter mini-breasts are the best part of the bird!
That being said, they are the least healthy part of the bird. And when coupled with a sweet BBQ sauce, are even less so.  The following is a healthy(er) version:
Ingredients
8-10 chicken thighs
4oz tomato paste
2 oz spicy mustard
1 tbsp worchestershire sauce
1 tbsp lemon juice
1 tbsp garlic powder
1 tsp kosher salt
2 tsps fresh ground black pepper
2 oz local honey
Pre Heat oven to 375 degrees.
Clean and pat dry chicken thighs and set aside.  Mix all remaining ingredients in a bowl with a whisk.
Place chicken skin side DOWN in a shallow 13 x 9 baking dish/pan.
Brush half of the remaining ingredients (BBQ Sauce) mix onto the chicken.  Flip the chicken thighs over so they are skin side UP!  Brush the chicken skins with the remaining BBQ sauce Mix.
Bake for 30 minutes at 375 degrees.
Raise heat to BROIL and Broil the chicken for an additional 6 minutes
Wanna go even healthier and still have AWESOME Chicken thighs?  Then instead of the BBQ sauce recipe above, add 1 TBSP Garlic powder, 1 TSP of Kosher Salt and 1 TSP black pepper to 4oz Olive Oil.  Then follow the instructions above.  This is actually my favorite way to enjoy baked chicken thighs!
- ENJOY!
Impress Your Guests with Great Recipes!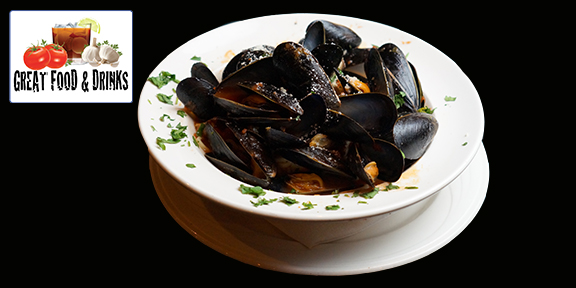 Mussels in a White Wine Garlic Sauce
This is a classic recipe, which is easy to prepare and is a sure-fire hit for your guests! Mussels are awesome because they are so abundant. AND they are ok even when frozen and out of season, because most are flash frozen and vacuum packed. So they will still open when cooked and be fresh, safe and delicious.
You will need:
2 pounds of fresh or flash frozen mussels
1/4 lb stick of butter
2 shallots
8 cloves of garlic
1/3 cup Italian Parsley
5 Large Leaves of FRESH Basil
1 cup of water
3 cups dry white wine (Chardonnay Preferred)
Salt & Pepper
In a large pot, sautee' onions in butter until they start to become translucent. Chop the basil and peel and mince your garlic. Add them to the onions and butter along with a half teaspoon of salt and half teaspoon of pepper. Add water and 2 cups of your white wine. Bring to slight boil, add mussels and cover for 3-5 minutes. Check after 3 minutes to make sure mussels are starting to open.
Once Your mussels have opened, add the parsley and give them a big stir with a large spoon from the bottom up to ensure the juices are well incorporated in all the mussels.
Serve Family Style with toasted Italian bread for dipping into the sauce.
Oh..... and the extra cup of wine? Drink it!