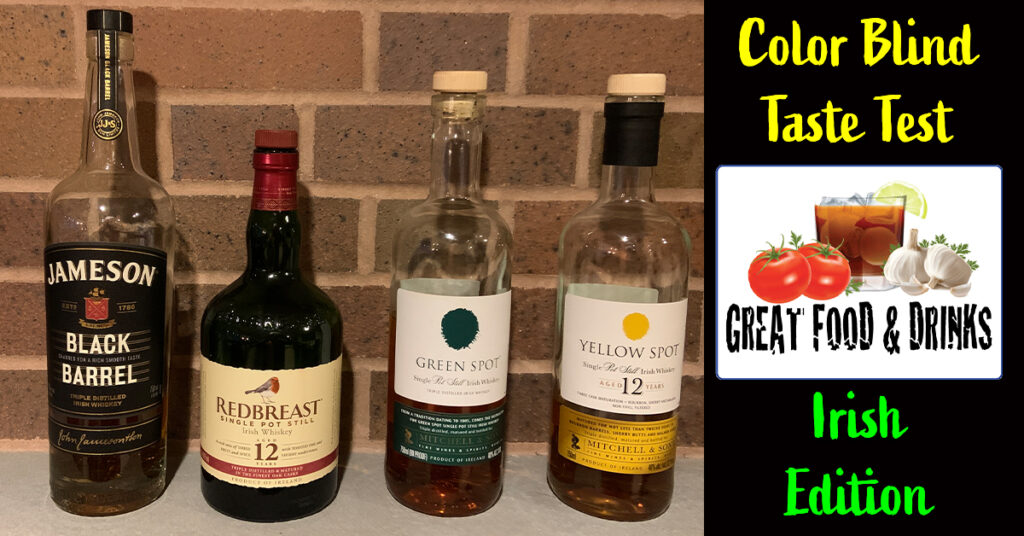 A Color Blind Taste Test of Irish Whiskeys
What is a Color Blind TasteTest, You ask? Well, you have heard of Being Color Blind. Furthermore, you have heard of a blind taste test. So, putting them together, you get a color blind taste test! Still unclear? That makes sense!
We decided to honor the Irish as this month we celebrate St Patrick's Day! And what better way to do that than with an Irish Whiskey Tasting? This time we decided to do a blind taste test. This way, our reviews won't be biased by knowing the bottle prices. Suddenly by pure coincidence I noticed that each of these premium Irish Whiskeys had a color in its name. Hence we came up with "Color" Blind Taste Test! (And yes, we had begun imbibing when I thought of this!)
Irish Whiskeys Particulars:
Jamesons Black Barrel – $39
Redbreast 12 YO – $65
Green Spot – $65
Yellow Spot – $105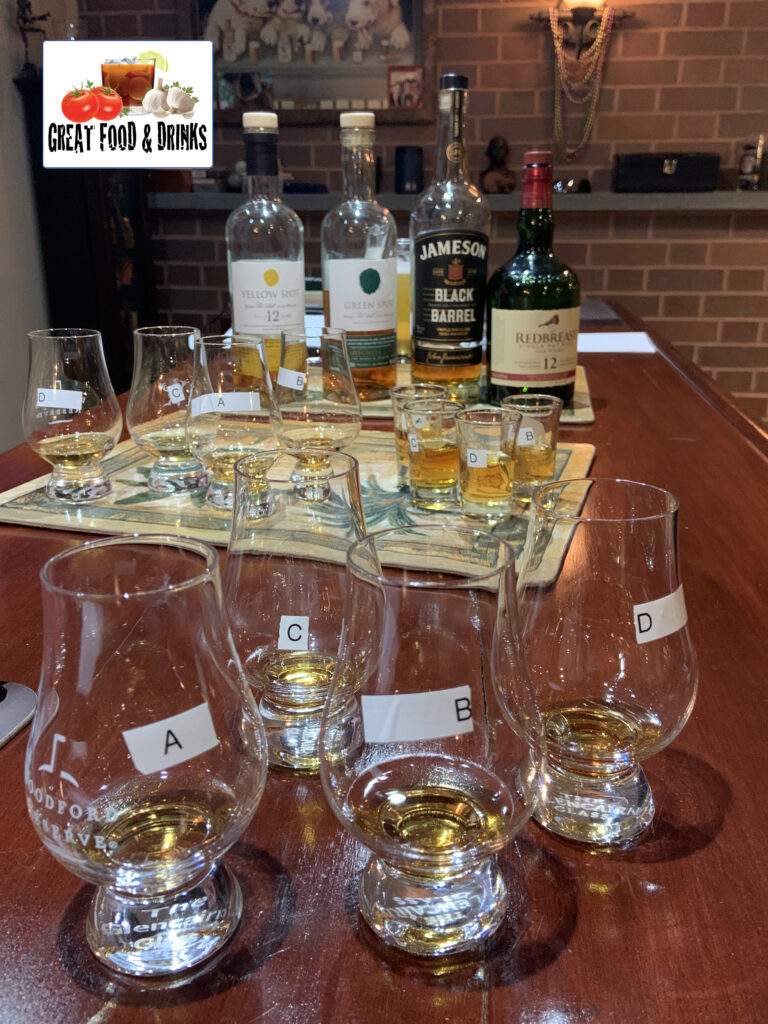 Our tasting was hosted by my great friends, Chris & Chrissy. I mention this because it is their whiskey! Incidentally, other people's whiskey is my favorite brand to drink. So Chris & I sequestered ourselves while Chrissy designated, assigned and poured our samples.
When all was said and done, Chris and I both agreed that Green Spot ranked number 1 and Yellow spot ranked number 4! This is not they way we thought it would go, based on price. We flip flopped on numbers 2 & 3 with Chris preferring the Redbreast slightly over the Black Barrel and I the inverse. Important to know is that they all came within 3 points of each other, so all are excellent!
Tasting Notes
Glass A – Yellow Spot
The Yellow Spot was balanced between smokey and almost a peet presence, reminiscent of a Scotch Whiskey. It was light in color, very smooth and let you know it had strength. Rated 87
Glass B – Jamesons Black Barrel
This Whiskey has the caramel, oak and light smokey notes you expect from a fine Irish Whiskey. A definite step up from the standard Jamo. Surprisingly refined. Rated 88
Glass C – Redbreast 12YO
The 12YO explains the depth of this one. Not as refined, but flavor forward. Smooth, caramel, oak and a hint of rind. It had a nice slight smoky bite.
Rated 88
Glass D – Green Spot
This was an ideal Irish Whiskey. Full. Yes, Smoke & Oak, but very well developed. Very refined. Some sweet grass notes, but not peet. Like a rye of lemongrass. I loved it. Rated 89
Summary
In the end, we thoroughly enjoyed them all. The Black Barrel gave you the best price value. Yellow Spot was delicious, but in my mind too pricy for what you get. So unless you have a buddy who owns a bottle, I'd pass this one over at the Liquor Store. Redbreast 12 is a good value and enough of a taste departure from the norm to add it to your collection. But the Green Spot is right on point. Wait for it to go on sale and hoard a case! I hope you enjoyed our Color Blind Taste Test!
Cheers!
– Pete
Great Food and Drinks is a Division of Solstice Media. If you are thinking of opening a restaurant or are struggling with an existing space, please call us today at (610) 529-0122. Visit our Restaurant Consultation Page for more information. Please "Like" us on FaceBook!