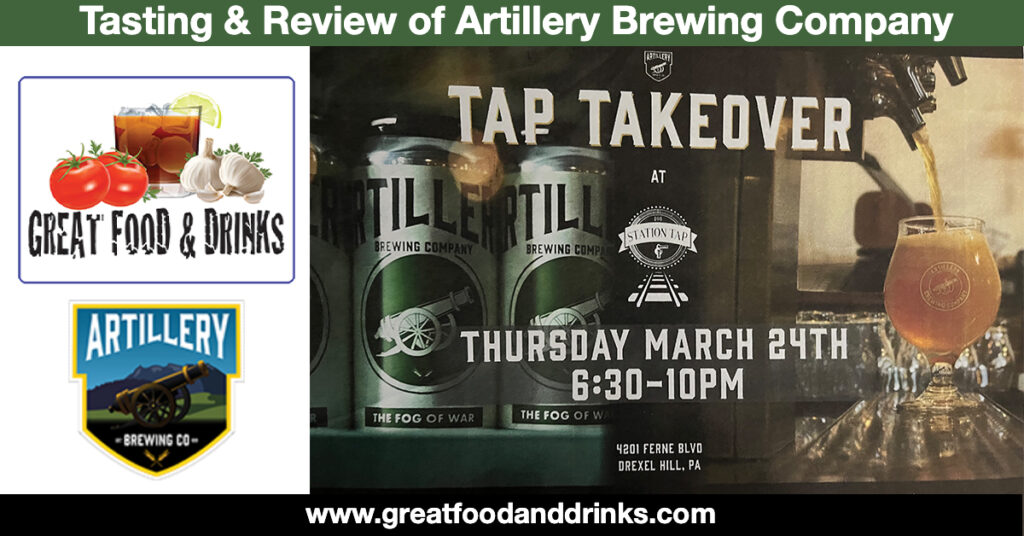 Artillery Brewing Review at Station Tap
Last night I had the opportunity to conduct an Artillery Brewing Review. This review features beers from Artillery Brewing. Located in West Chester, PA, Artillery is relatively new to the scene but is already enjoying a high ranking in our region. A number of their beers were offered during a Tap Takeover at Station Tap in Drexel Hill, PA.
To offer some perspective, I base my reviews on how a beer should be presented. In other words, even if a particular beer is not what I usually order, I critique it on how it SHOULD taste. The Brewers at Artillery obviously know their craft. I was very impressed. The following is my Artillery Brewing Review:
Black Powder Black IPA – ABV 9.5
As it should be. Malty, roasted hops, tobacco, chocolate. caramel. Complex but Feels a bit lighter than it's ABV. I wish I had something sweet to enjoy with this..Like a cheesecake.
Score: B+
Musket Farmhouse Ale – ABV 6.3
Impressive. Tastes like its sister style, the Saison. (As a Farmhouse should.) Both are French style ales and have that have that funky and earthy taste/feel. If you like them, this is a good one. This is a perfect example of how a Farmhouse Ale SHOULD taste.
Score: A
The Patriot American IPA – ABV 7.5
Very light tasting for this ABV. Hence its dangerous. Citrusy and crisp and less hoppy than people expect when ordering an IPA. But remember, it's an American IPA and that's how they should be. Not hazy. A solid American IPA. Be careful!
Score: A-
Brown Bass Brown Ale – ABV 5.1.
Malty yet crisp. (Which is hard to pull off.) Molasses notes and a round finish on the back of the tongue. This is one of those example of something I don't typically order, but was done properly. I would like to feel less on the back of my tongue, but it would be a good companion to strong foods like game meats or even onion rings.
Score: B
Last Call Lager – ABV 4.7
Very light in body but solid flavor. Crushable! Clean finish. Akin to a session as far as ABV goes without the hops. A better option than mass produced Light Beers. Well done for its class. Lots of local Breweries are doing Lagers. This one is one of the best.
Score: A.
Volley Bohemian – Czech Style Pilsner – ABV 4.7
This is a true Bohemian Czech Style Pilsner. It has that Bohemian malty funk, yet it is crisp and light. Well done for this style. It's exactly what a Pilsner should be! I had this from a can. Will go back and try it on tap!
Score: A
That's a Wrap!
I am looking forward to visiting Artillery in West Chester. I definitely want to try their Hazy IPA because that's my jam! Also, their menu looks great.
As a standard disclaimer, This is NOT a paid review. I do this to try to share my feelings and I welcome yours. I frequent Station Tap and when I saw they were hosting this Tap Takeover, I had to check it out. If you have something you would like reviewed, let me know by sending me an email. I review All things food and drink.
Please visit the rest of our site at www.greatfoodanddrinks.com. We are a pet project of my Company, Solstice Media. Like us? Please follow GF&D on Facebook. Or follow Solstice Media on FaceBook.