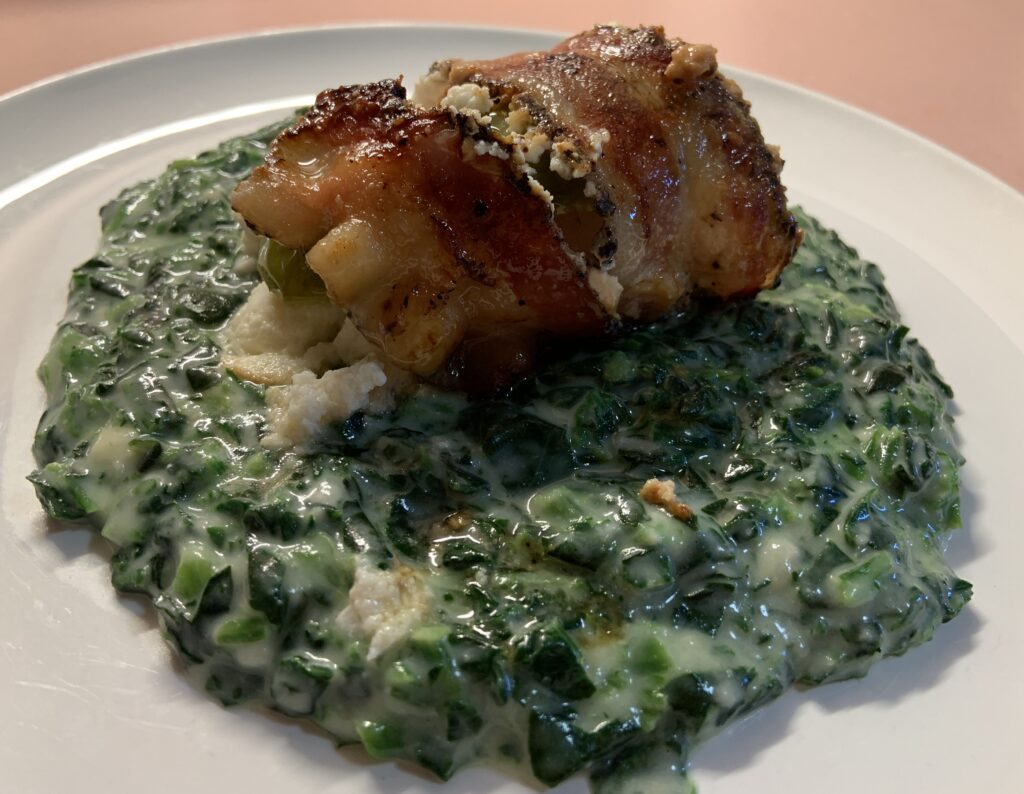 This is an awesome dish, which is pretty simple to make. I placed the finished Stuffed Chicken on top of a bed of Creamed Spinach.
Creamed Spinach
First, for the Creamed Spinach you will need to make a basic Bechamel (White Sauce). First make a roux (1 tbsp butter + 1 tbsp flour.) heat the butter until it begins to melt then add your flour. Once a paste is made you have your roux. Then add 2 cups of milk and salt, pepper and garlic powder. Once the sauce starts to boil, it will be thickened and done. Stir often. You can heat a 1 pound bag of frozen spinach in the microwave and stir it into the Bechamel Sauce. Boom. Done. Awesome!
Cut 2 Breasts into 3 pieces.

6 dollops of Ricotta Cheese

Cut slits for pouches.

Portion a pepper into 6 pieces

Stuff pouches with Ricotta

Add Microwaved Peppers

Wrap in Pepper BAcon

Place in Frying Pan

Slightly Browned and into the Oven.

Add Spinach to Bechamel

Creamed Spinach
Stuffed Chicken Wrapped in Pepper Bacon
Now you cut two Chicken Breasts into three pieces each. Cut a slit or pocket into each portion. Fill the pocket with Ricotta Cheese. Slice a Green Pepper into six pieces lengthwise. Microwave them for a minute so they get a little soft and won't fight the Bacon when being wrapped.
Preheat your oven to 400 degrees.
Wrap the Stuffed Chicken and Pepper with your Pepper Bacon. (Regular Bacon will work just fine). Place in an Oven Safe Frying Pan and lightly brown on each side. Then place the frying pan (with the chicken still in it!) into the oven for 30 minutes.
Finally, Place the finished Stuffed Chicken on top of a bed of your Creamed Spinach.
Enjoy!
Contact Us
For more recipes like this, please visit our Recipes page. To learn more about Great Food and Drinks, Click HERE.
Visit us on Facebook, our Parent Company – Solstice Media on Twitter or Pinterest!