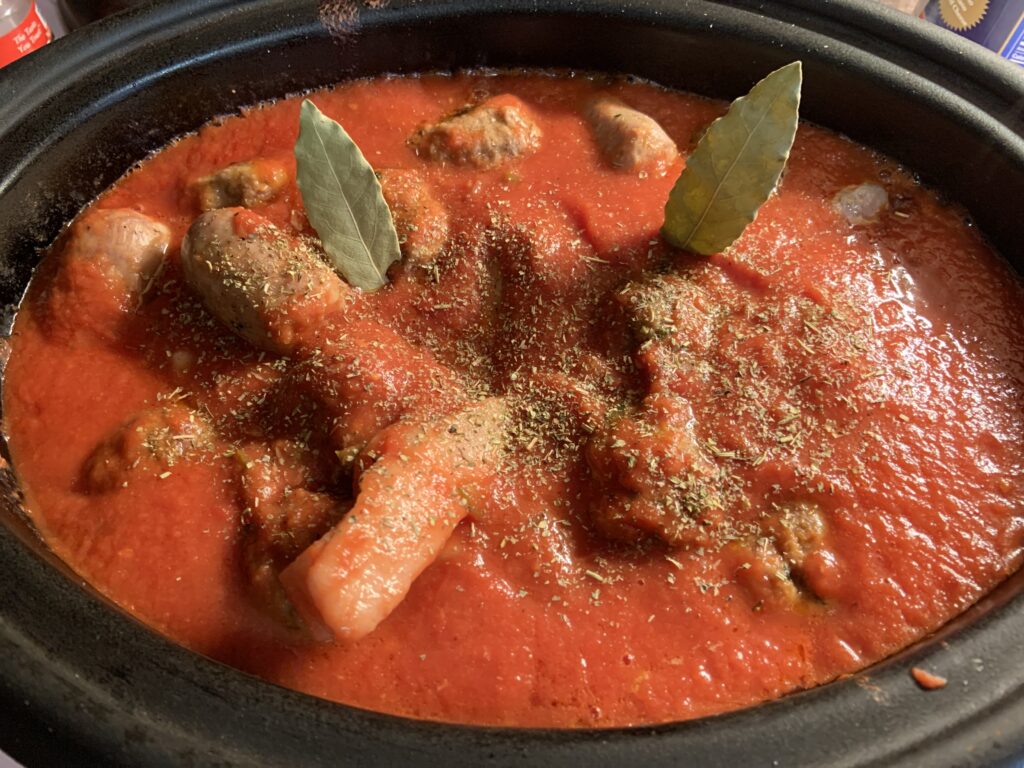 First – The Meatballs!
What you will need:
1 Pound of Meatloaf Mix
1 Egg
1 Cup Seasoned Bread Crumbs
Teaspoon each of Salt, Pepper & Garlic Powder
4 slices of potato Bread, diced and soaked in a mixture of milk and tomato paste
1/4 cup fresh chopped ITALIAN Parsley
Mix all ingredients thoroughly and roll into tight balls. Place them on a baking sheet lined with parchment paper and bake at 350 degrees for 25 minutes. This will make them firm enough to not break apart in the gravy but still soft enough to help flavor the Gravy.
Leave some room on the sheet pan for a mix of sweet Italian and Hot Italian sausages. Cut them in half so the meat can help flavor the Red Gravy. The Hot Sausage will give just a perfect hint of heat.
Quick Tip:
NEVER cook hot pepper flakes into your gravy. Add them dry when serving.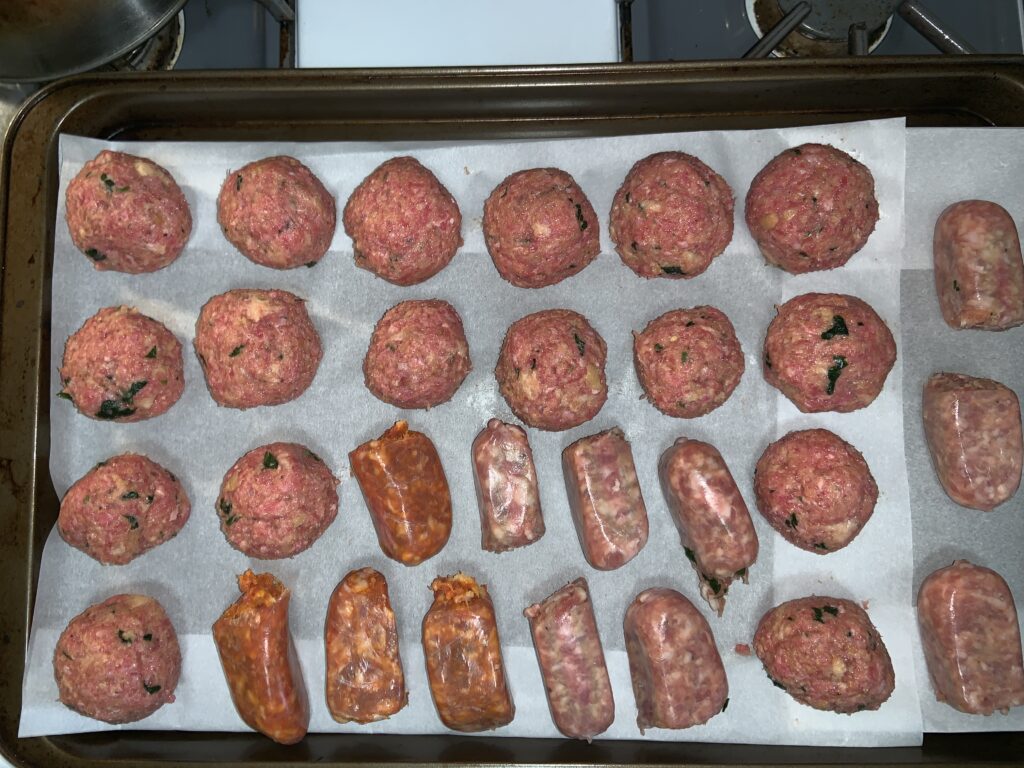 Red Gravy
Webster's Dictionary says Gravy is any sauce whose flavor is enhanced by the addition or drippings of meat. Soooooooo – if it has no meat, a Marinara for example – it's a sauce. But adding meatballs, Sausage, pork, veal, or any other kind of meat to it converts that sauce to a gravy! Here's what you will need to make Grandmom's Gravy:
2 @ 24oz cans of peeled San Marzano tomatoes
1 @ 24oz can of tomato puree
1@ 6oz can of tomato paste
3 slices of unsalted pork fat back
2 dried bay leaves
1/3 cup sugar
1 TBSP coarse Sea Salt
1 TSPN each of black pepper and garlic powder
1 cup each of diced green pepper, diced sweet onion and diced carrots
1/2 cup red wine (Montepulciano, Cabernet or Chianti)
1TBSP dried Italian Seasoning
4 leaves of chopped fresh basil
I like to use a 6 quart roaster oven or crock pot for my Red Gravy. The reason is I can run errands or go to work and leave the simmering gravy unattended and not have to worry about stirring it or preventing it from sticking to the bottom or burning.
So after the roaster is hot, I add a 1/4 cup of olive oil and begin to render down the Pork Fat Back. Then I add the onions, peppers and carrots. When the onions appear translucent, I add the salt, pepper and garlic powder and mix them. Next I add the red wine and let it reduce by half.
Once the wine has reduced, I lower the heat to low or about 200 degrees.
Using either a hand blender or traditional blender, I puree the peeled San Marzano tomatoes and add them to the roaster oven along with the puree and paste. Finally I add the Sugar, Basil, Dried Italian Seasoning and Bay leaves. I give it all a nice stir and cover so it simmers properly.
Veggies and Fat BAck

Well, I DID open the wine!

Cool little unit really comes in handy!
Marriage!
After the meatballs and sausages come out of the oven, I add them to the simmering gravy. (Remember, it's already gravy because the Pork Fat Back was added to it!) I GENTLY stir the gravy taking care to not break the meatballs apart. Use a wooden spoon for this.
I like to let this simmer on the lowest possible setting for about 4-5 hours. That's ideal, but it will taste pretty awesome after about 2 hours. 4-5 simply takes it to another level!
Now serve over pasta or on their own! Top with freshly grated Locatelli and enjoy! And please think of Grandmom Kate when you enjoy this meal!
For More recipes, please visit our Great Food page.
Please follow us on FaceBook, Twitter and Pinterest!
God Bless!