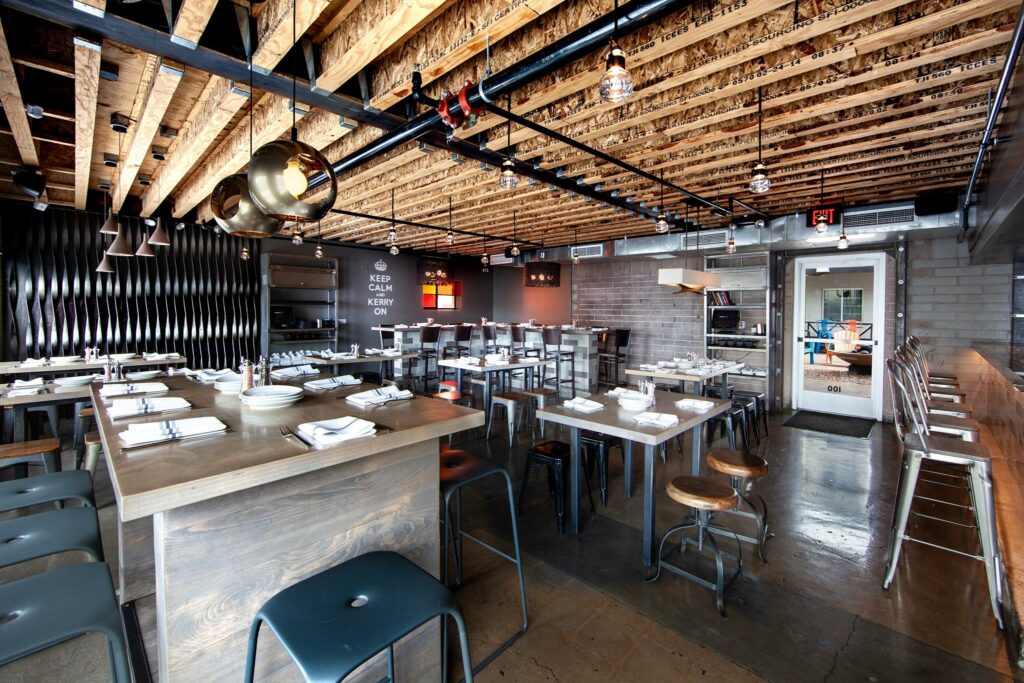 Carson Kitchen, Las Vegas – My "Go To" Spot!
I don't get to Las Vegas enough, but when I do I ALWAYS go to Carson Kitchen! This post will certainly be an awesome Restaurant Review! I first visited Carson Kitchen a few years ago and I was hooked. I believe food trends in the US go from West to East and when I finally open another space here in the East, I will be stealing ideas from Carson Kitchen.
Opening in 2014, Carson Kitchen was the creation of Las Vegas' hometown favorite Chef Kerry Simon and restaurateur Cory Harwell. The plan, to develop the first urban casual eatery, inside the re-purposed mid-century John E. Carson Hotel – a skeleton of Downtown Las Vegas' yesteryears, now home to its eclectic mix of tenants including a sushi bar, tattoo parlor, pilates studio, creative agencies, donut & coffee bar and Chef Simon's playful interpretations on American comfort food.
The renovated space, showcased by hand-crafted solid butcher block countertops throughout, provides multiple atmospheres to indulge including a swanky bar, the open kitchen expo counter, a community table and the outdoor rooftop patio and bar – yes, that's two bars to choose from. Guests can also take in a cocktail and relax in the now preserved 1950's hotel courtyard, fully outfitted with a lava rock fire pit.
If you're looking for an alternative to The Strip's offerings and simply want to get back to basics of creative comfort, Carson Kitchen will bring you back to a time when your grandparents visited Las Vegas.
Great Food & Drinks!
There are a few things on this Menu that I get whenever I am at Carson Kitchen. The Crispy Chicken Skins with Smoked Honey, The Bacon Jam with Brie and Toasted Baguettes and the Devil's Eggs with Crispy Pancetta and Caviar! Soooo good! I love every fish dish I have tried there, the last time I was there I thoroughly enjoyed the Sea Bass with Cauliflower Tabbouleh and Chili Oil. I hope I can visit there this Spring to try the Pomegranate-Bourbon GlazedSalmon that's on their new Spring Menu!
In addition to that, they always have a version of Chicken Thighs on the menu. Chicken thighs are the tastiest part of the bird and Carson Kitchen recognizes this are are secure enough in their "kitchenhood" to feature this poor man's portion!
Carson Kitchen offers an excellent selection of Craft Brews – which we all know I love. But I can't resist their cocktails. I can get beer anywhere. Their Mixologists are truly committed to their craft and pour as much thought and love into their libations as the Chefs do with their food! I especially love the "Just the Tip" which comprises of George Dickel Rye, Grand Marnier, Mint, Fresh Lemon, Vanilla and Apricot Preserve.

Following dinner I had an "Evening Prayer", which has St. George Citrus Vodka, Chareau Aloe Liqueur, Drumshanbo Gunpowder Irish Gin and Contratto Bianco. Oh my God!! Delicious!
Then I rolled back to the Hotel Room!
If you find yourself in Las Vegas soon, you MUST visit Carson Kitchen!