Solstice Media's Restaurant Consultation Services
Solstice Media's Restaurant Consultation Service helps those who are opening a new or struggling with an old restaurant. It's a common tale. "You are such a great cook!" "You should open a Restaurant!"
We have seen countless restaurants, which have failed within their first year. It's a shame. People lose hundreds of thousands of dollars. Why? A lack of knowledge. A lack of research. Poor quality, theft, inadequate training, no oversight, apathy and a lack of focus are all culprits in a Restaurant's failure. It is critical that you have the necessary tools and knowledge to take on this type of project.
Steps to Consider when Thinking About Opening a Restaurant
Yes. The Lamb Chops above look awesome. They are a product of one of our clients, Vida, in Havertown, PA. But a lot of things happen before that dish can go to the Guest's table. Here are some points to ponder:
Demographic Research – Know who is in the area where you plan to open. How many businesses, how much competition? What income levels surround the spot? What is the traffic flow. How is parking?
Concept – What TYPE of place do you want to open? (Please don't say Sports Bar!) Pizzeria? BYOB? Brew Pub? Gastro Pub? You better put some surveys out there to ensure there is a need and desire for your type of concept.
Budget & Goals – Whatever you think you can afford, you must allow for a contingency fund. Unexpected hurdles, costs, fees and problems. You need working capital and a clear opening date goal.
Design – What is your space going to look like? Remember form and function. Seats equal money. Too many will be uncomfortable. Too few will be unprofitable. Make sure all surface are easily cleanable. Also, use square tables. You can't put round ones together for a group.
Staffing – These are the people who represent you. Make sure they are well trained and properly managed.
Menu Development – Read the trade magazines, get recipe ideas, don't do what everyone else is doing. Put a twist on traditional items and price them at 25% food cost or better. The app below features a jalapeno popper, but with a three cheese blend and a cilantro crema. The bacon wrapped shrimp are in a honey chipotle glaze, which is also on the base of the arugula and pico de gallo. They all tie together perfectly.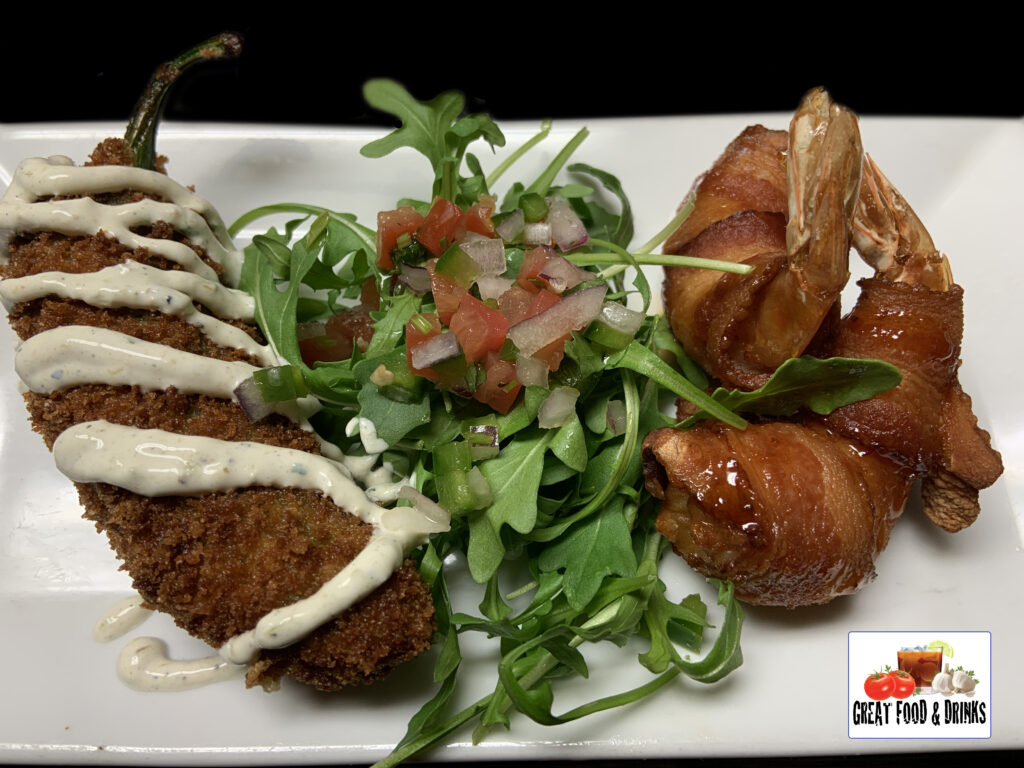 Marketing – Start introducing the concept early and often. Create a hype. Make sure folks know what you will be and when they can visit. Have a soft opening two days prior to your opening. This will give you time to get feedback and address it before your actual opening.
Obviously there is so much more to it than this. These are just some points to consider. If you are thinking of opening a restaurant or are struggling with an existing space, please call us today at (610) 529-0122. Visit our Restaurant Consultation Page for more information. Please "Like" us on FaceBook!